Environmental Defense Fund staff work with fishermen to protect the world's second-largest reef

Along Belize's coastline, the ancient Mesoamerican Reef—the second largest barrier reef system in the world—forms a glittering necklace of sandy cayes and coral atolls.
Fifty years ago, fishermen waded in shallow waters here to harvest spiny lobster and queen conch by the hundreds.
"I used to get 200 pounds of lobster in a day's work, but now fishermen think ten pounds are good," recalls Martin Reyes, who has fished off Punta Gorda in southern Belize for 45 years. Now, he says, "You have to go far offshore and gas costs $5 a gallon, so it's very hard."
With the country's sugarcane industry foundering, people desperate for work are increasingly turning to fishing—some illegally. In Reyes's lifetime, Belize's lobster catch has fallen by nearly half.
Fishermen must be part of the solution
Disturbed by the declines, fishermen and their leaders are demanding change. Reyes—a member of the Garifuna community—heads the local fishing association. "I meet regularly with fisheries managers in Belize City so they don't make new rules without listening to us," he explains.
We believe that fishermen are essential to restoring fisheries and habitat, so we and our partners in Belize are harnessing their fervor to ensure success.
In 2009, we teamed up with the Wildlife Conservation Society (WCS), which conducts research at Glover's Reef reserve, and the Toledo Institute for Development and Environment (TIDE), a Belizean conservation group.
A better way to share fish
The coalition enlisted fishermen, policy makers and managers of marine reserves to help preserve the reef through catch shares, a new management system. This innovative approach for managing fisheries is now the preferred method in the United States.
See how catch shares are working in the U.S.
Belizean fisheries today have an overabundance of fishermen and an undersupply of enforcement. A free-for-all is the norm as fishermen race to get the last fish. Fish populations collapse, and fishermen barely eke out a living.
Under one type of catch shares, groups of fishermen are granted exclusive access to fish in a designated area. This secure privilege gives fishermen an incentive to become better stewards of the resource.
Local community help is also needed
One promising strategy for restoring fisheries pairs catch shares with marine protected areas that are managed jointly by a local community and the government. "Without community participation in conservation, we would not be effective," says Celia Mahung, executive director of TIDE, which builds community ties through youth camps and scholarships.
TIDE also helps out-of-work fishermen find jobs as sport fishing guides. Mahung pioneered a program that taps fishing leaders to be stewards of marine reserves.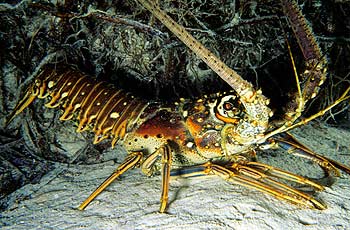 Poachers have cut Belize's lobster catch by nearly half over the last several decades.
Martin Reyes is one of 12 custodians. When Reyes sees a poacher, he alerts rangers by cellphone. Since the Belizean government has little money for monitoring and enforcement, "we need the stewards," says Mahung. "They are our eyes and ears."
Out on the water, Reyes talks to fellow fishermen to make sure they haven't kept undersized lobsters or females about to lay eggs. "I ask if the lobster has tar on its chest," he says. "The male lobster deposits tar on the female's chest, and when she releases the eggs she scratches the tar and that fertilizes them."
Lobsters take at least two years to mature, and the bigger ones can lay 5,000 eggs at a time. "Most lobsters don't get to be that big now because they are caught," says Reyes, who teaches the next generation about the life cycles of lobster and conch. "It's better to learn these things when you're young so you'll know what not to take."
First steps for new catch share program underway
"Protecting this amazing reef is critical to keeping U.S. fisheries healthy," points out EDF senior scientist Dr. Rod Fujita. "Fish larvae float through the Yucatan Channel and replenish U.S. commercial fisheries."
Thanks to our coalition's efforts, Belize's cabinet voted in December 2010 to authorize catch share programs for spiny lobster in Port Honduras and Glover's Reef reserves. The first steps are underway to implement the program for lobster.
"EDF's expertise in market-based incentives complements our long-term commitment to conservation and helps us ensure the health of this vital ecosystem," says Janet Gibson, the WCS program director in Belize.